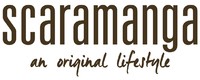 Welcome to the Scaramanga Press Office
Welcome to the Scaramanga Press Office
Products from this company are shipped to: United Kingdom and are located in: United Kingdom
31/03/2022
Summer Lovin
Scaramanga
The sun is shining, the flowers are blooming, and the evenings are wonderfully light – it must be British summertime! Here at Scaramanga, we love our vintage and retro homewares, but they don't have to stay inside. In honour of the beginning of the warmer weather, we've got together our five top homewares that can spend the summer outside with you.
One of the best things about summer is being able to pick up your plate, and eat outside in the warm early evening sunshine. Whether you're planning a family feast or a lingering lunch, our
vintage wooden folding chairs, £47.50
are the ideal accessory to go with your garden table. Available in a choice of colours, and with a unique distressed finish, our chairs will add a retro touch to any patio, decking or lawn.
The main piece of outdoor furniture you need is your outdoor table. The
vintage folding table
. We have a fantastic range of wooden and painted one.
Which of course gives them that sought-after shabby chic or farmhouse look. You don't see many multi-functional vintage pieces of furniture. Use it when you want to then fold it up and store it away when you don't need it or want additional space. These vintage tables are the most popular choice in our range of outdoor furniture. They've been purchased by many bars and restaurants for their rustic chic patios!
We love to have centre piece to gather round, whether that be you outdoor dining table or one of new in fire bowls. It may be summer but when outside in the UK, we need a some source of warmth, our collection of original Kadai fire bowls
are the answer. Each is made from an old traditional Indian cooking pot called a kadai. Originally these large pots were used for communal cooking across India and can still be seen used for wedding parties. It may be summer but when outside in the UK, we need a some source of heat.
Are you fed up with the standard garden decor? Do you want your garden to have a really unique style? Instead of heading to your local garden centre for standard outdoor decor, think outside the box and use our
original colourful doors,
to add some interest to your outside space. A true conversation piece you know none of your friends will have.
Stockist details:
+44 (0) 1334 657 642 | www.scaramangashop.co.uk
High-res images available for download: