Collaborating with the right online influencers is a powerful way for companies to sustain and build their brands as well as extend them to wider audiences.
We've developed our Influencer Outreach tool (IO) to easily and quickly bring together brands with thousands of influencers who are already using the Press Loft network.
How it works
1. Create a collaboration alert
Let the influencers know what you're looking for:
demographic (age, gender, location, etc)
channel (Instagram, Twitter, Pinterest, blog, print, etc)
collaboration type (social post, review, giveaway, etc.)
benefit offered (product, payment, reciprocal post, unpaid, etc.)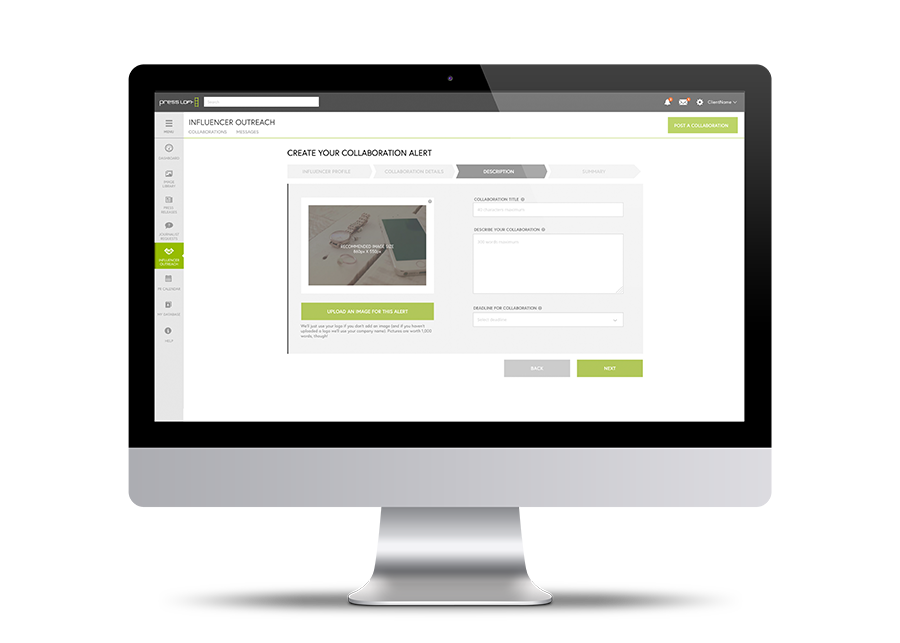 2. Post your alert to influencers
Your alert will be sent to all relevant influencers whose profile matches your criteria.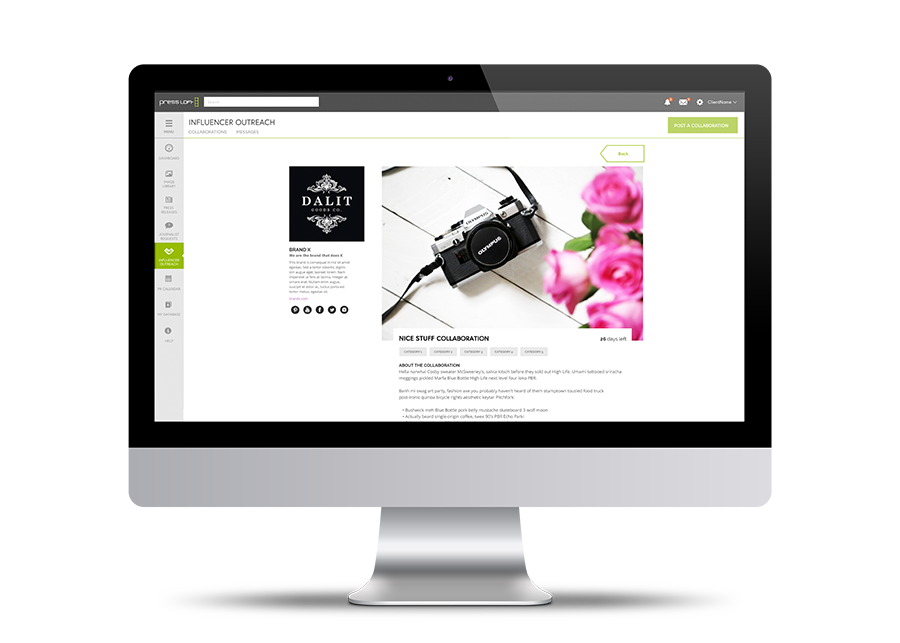 3. Get responses from influencers
Influencers interested in your collaboration will send you a message and a summary of their profile. Click through to get a feel for their content and the fit with your brand.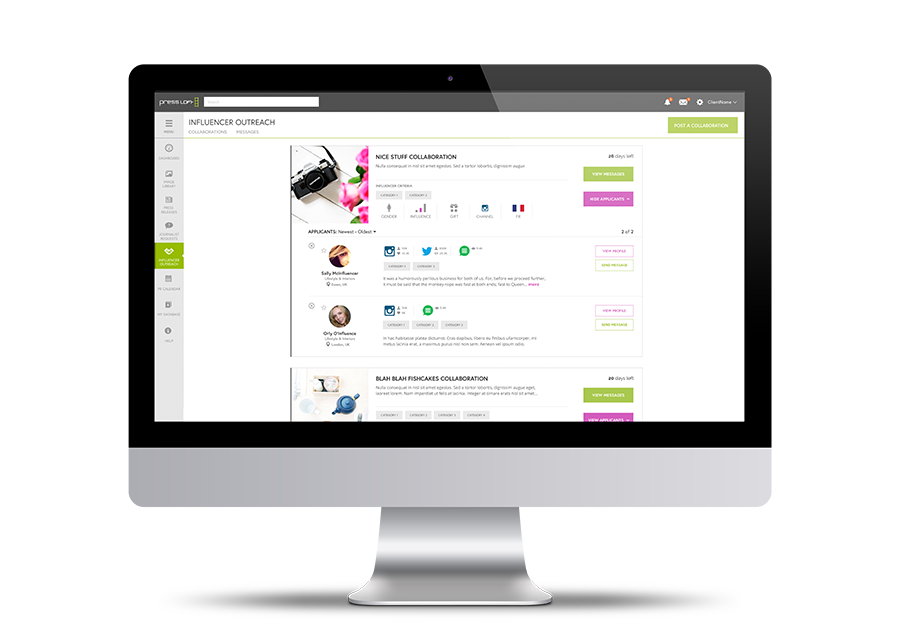 4. Review your applicants
Influencers' social media profiles will give you an idea of what they're all about. You can discuss the opportunity with them to help you make the right choice. Influencers may also have great ideas to make your collaboration even better.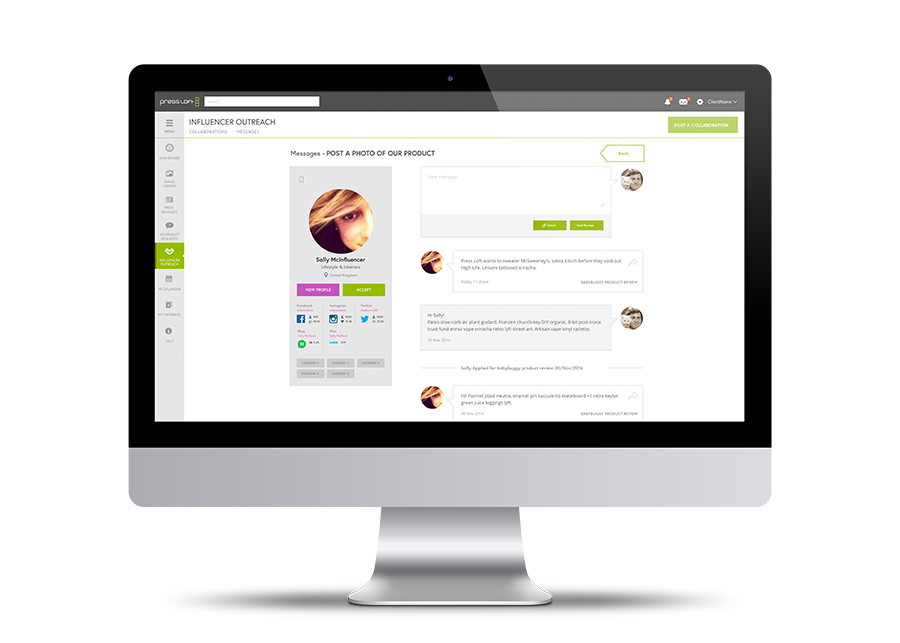 5. Set your terms
When you're ready to accept the next step is outlining the terms of the campaign. This sets out the specifics of the collaboration and gives your brand and the influencer(s) a campaign brief to work with.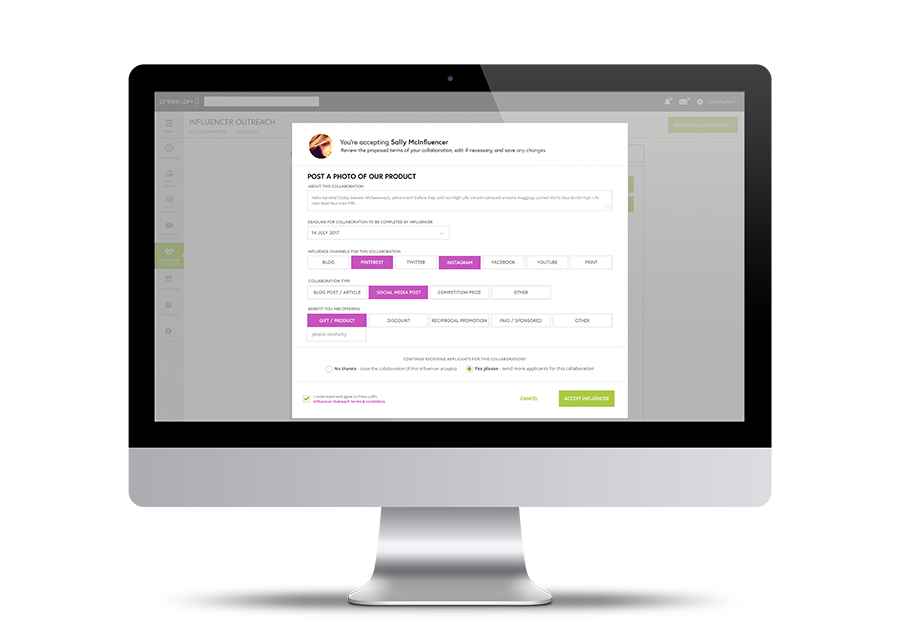 6. Reach your target audience
This is the exciting bit - your collaboration is complete and you can see the results! The posts, reviews or giveaways will be in front of your audience.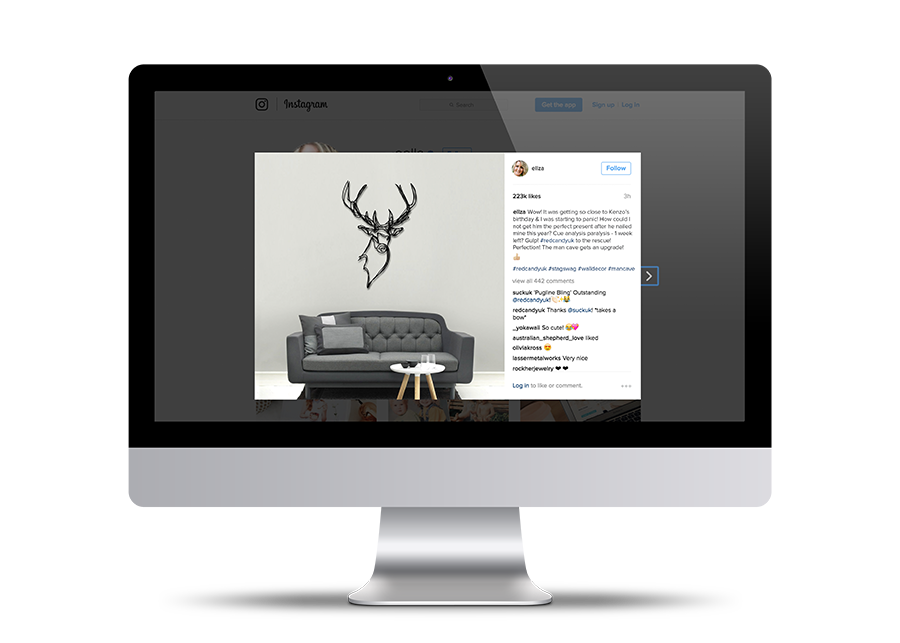 How it works
1. Create your profile
Let brands know who you are & what you're all about. It'll only take a couple of minutes when you register.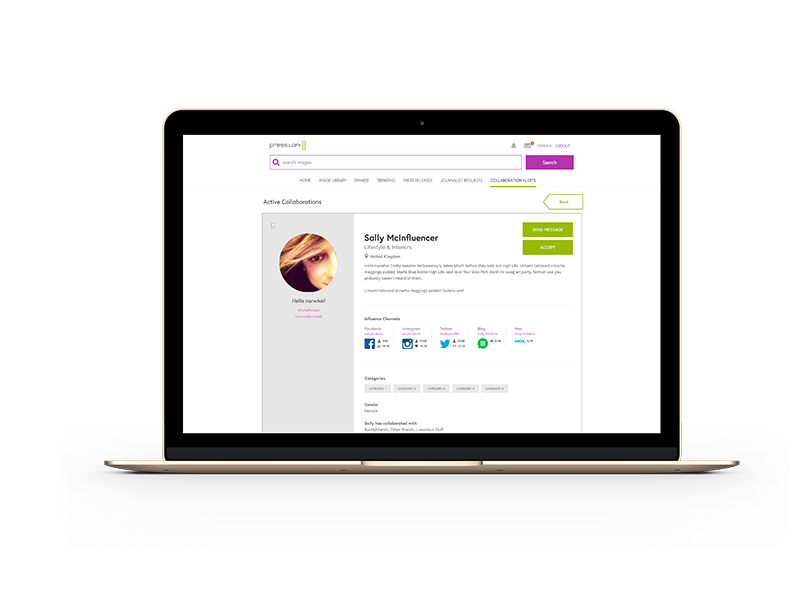 2. Browse your alerts
Based on your profile, you'll start receiving targeted alerts that match you and your audience.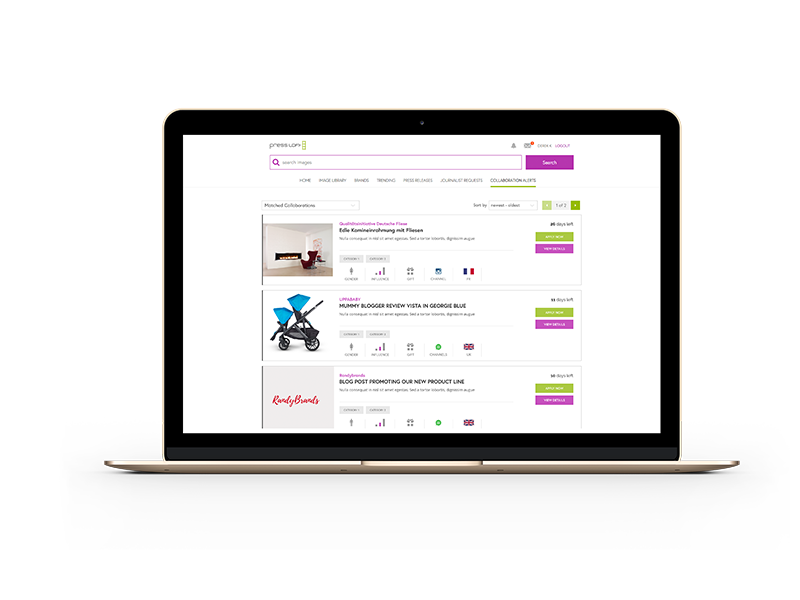 3. Review and apply
Click through the alerts and you'll see the complete details of the brand's brief. When you've found an appealing collaboration, just click 'Apply'.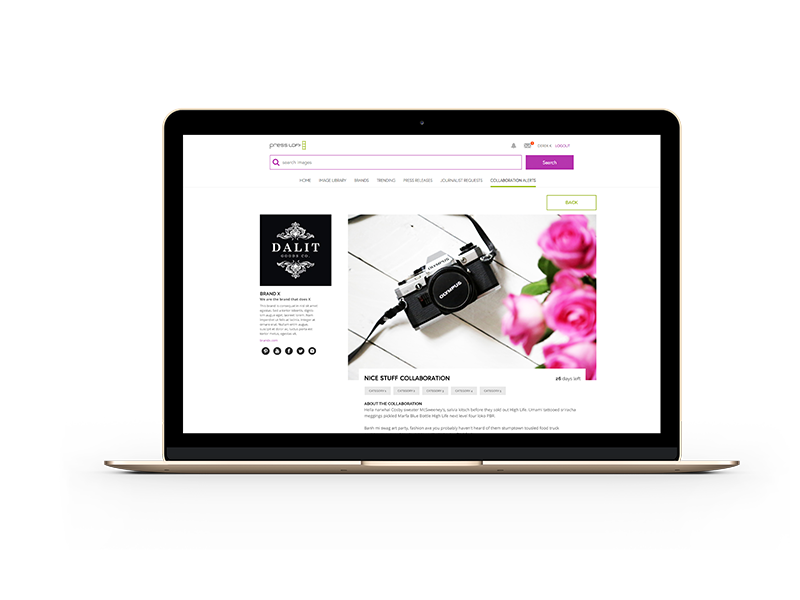 4. Collaborate
Once you've applied, the brand will check out your profile. If you're both interested, set the terms and the collaboration is on! Create and share with your audience!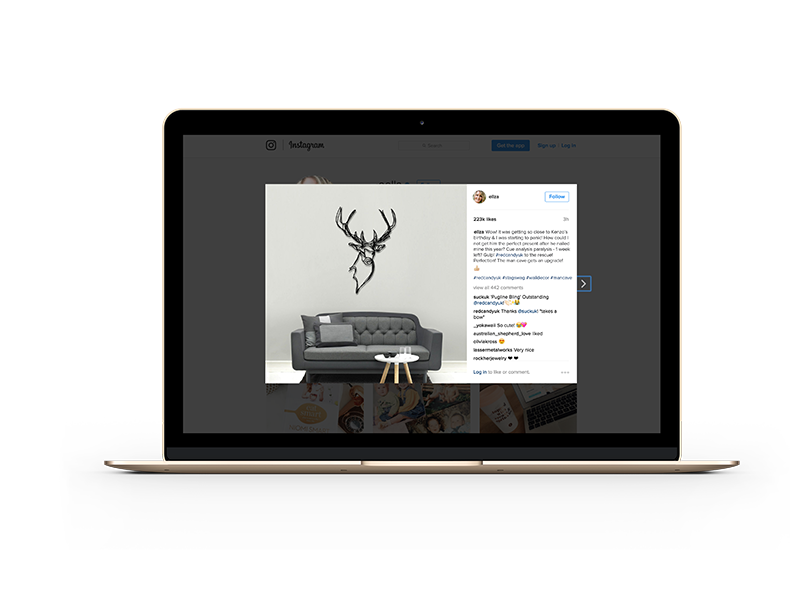 5. Receive your benefit
Once the collaboration is complete you reap the rewards - payments, gifts, discounts, etc. Not to mention great content for your audience and brand relationships!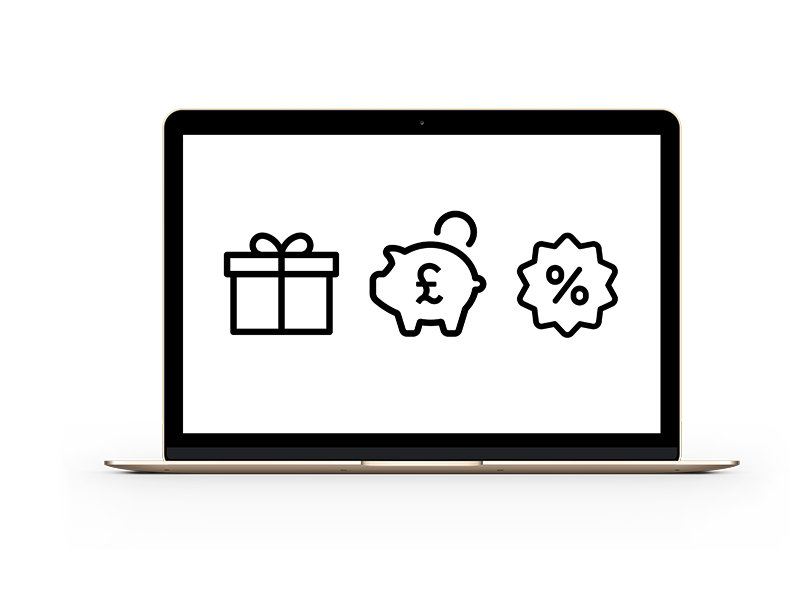 Why is influencer marketing so beneficial?
It's all about getting your brand's message out to a larger market by inspiring key influencers to get the word out for you. Basically it's the modern day word of mouth.
Bloggers, vloggers and social media influencers have huge volumes of loyal and engaged followers and an endorsement from them will promote a brand's message to a target audience in a much more organic and natural way than traditional methods ever could
Read more within our FAQ articles
here