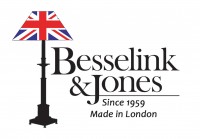 Welcome to the Besselink & Jones Press Office
Welcome to the Besselink & Jones Press Office
Products from this company are shipped to: United Kingdom and are located in: United Kingdom
14/02/2020
Modern Renaissance at Besselink & Jones
Besselink & Jones
Graceful, opulent and traditional, the Renaissance trend is the perfect style to transform your home from shabby to refined chic. Besselink & Jones have a variety of luxurious lighting to fit perfectly in with this classic style.

The Jacobean chandelier in distressed brass would be the perfect addition to any grand hallway. Available in brass, bronzes, chromes and nickles, choose your finish to complete your grand entrance in your humble abode.

If you are looking to make a bold statement, opt for the Musical instruments wall light, hand carved in distressed gold. This wall light will bring character and a unique story to any interior space.
For a pop of colour, choose the Tall Corinthian column in distressed brass. Pair this traditional light with rich velvet accessories and gold accents to bring the Renaissance trend to life.

The Ball feet candlestick lamp in distressed brass would bring light into a grand living room. Pair with brass accents and cream accessories to complete the look.
Prices:
H2-028, Large 5-arm Jacobean chandelier distressed brass: £1044.00
W4-021 Musical instruments wall light, hand carved, distressed gold: £906.00
T4-010 Tall Corinthian column distressed brass: £629.00
16″ Square Shaped Shade, Box Pleated, Honan Silk 102, Spanish Gold Russia Braid: £434.00
T5-017 Ball feet candlestick lamp distressed brass: £309.00
8″ Empire Shaped Shade, Box Pleat, Cream Silk: £153.00
Stockist details:
020 7584 0343 | www.besselink.com/
High-res images available for download: