PR made simple for interior & gift brands.
Our PR tools allow brands and retailers to easily secure press coverage , social posts & quality backlinks for SEO by connecting with our extensive network of 21,000+ journalists, bloggers, and influencers.
Our clients
Publications & websites using us
Chicago Tribune
HGTV Magazine
Better Homes & Gardens
ELLE Decor (US)
This Old House
House & Home Magazine
Cape House
housetrends magazine
Home Accents Today
Houston Lifestyles & Homes
Jacksonville Magazine
Unique Homes
Cottages and Bungalows
Sophisticated Living
San Diego Home and Garden Lifestyles Magazine
Elite Magazine (US)
bellemaisonmagazine
How it works:
Our Image Library tool allows brands to create an online press room, which showcases all of their products to 1000s of journalists, bloggers and influencers around the world, for them to discover for their print articles, blog posts and social campaigns. All images can be downloaded in high resolution along with detailed product and brand information, giving the press everything they need to feature and credit the brand anytime.
We've made it easier than ever to upload images with support for CSV and XML feed integration, and offer detailed reporting and media monitoring alerts.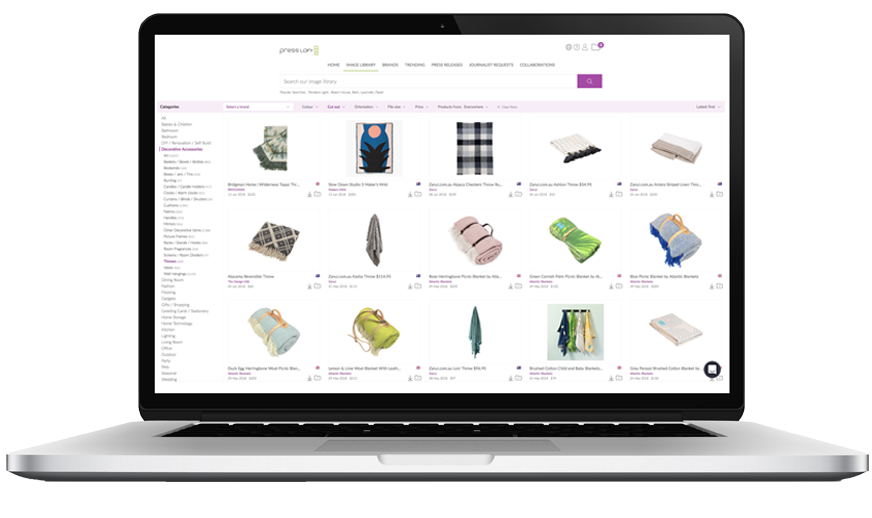 Companies can create a beautiful Press Release in minutes with our easy-to-use Press Release Creator. Published releases are hosted online and emailed to 1000s of opt-in journalists and bloggers on our network, giving them immediate access to the latest news. Releases are linked to high res downloadable images and product information, allowing the media to feature brands in an instant.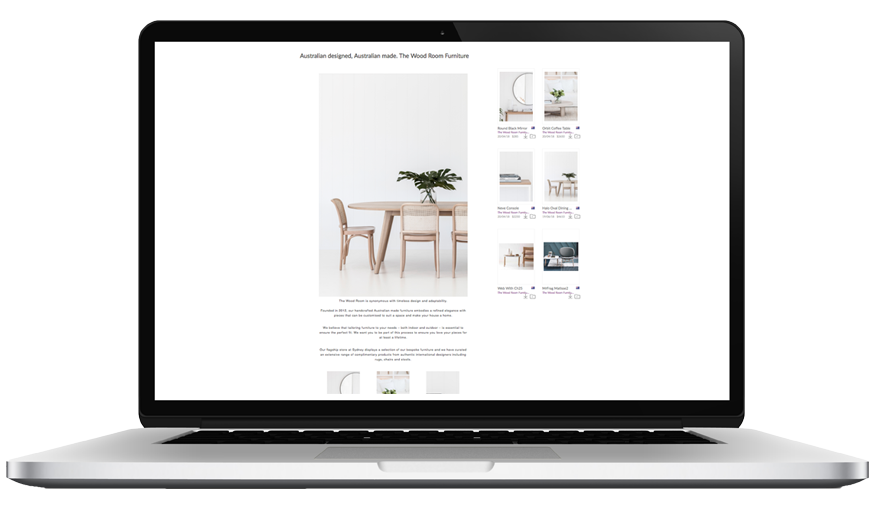 Journalists and influencers submit Journalist Requests through our platform to help them source content to feature. This might be product images, news, prize giveaways, expert testimonials, loans for shoots and more.
These alerts are sent to our network of clients in their chosen categories, allowing them to reply and pitch directly to secure valuable features and develop new relationships.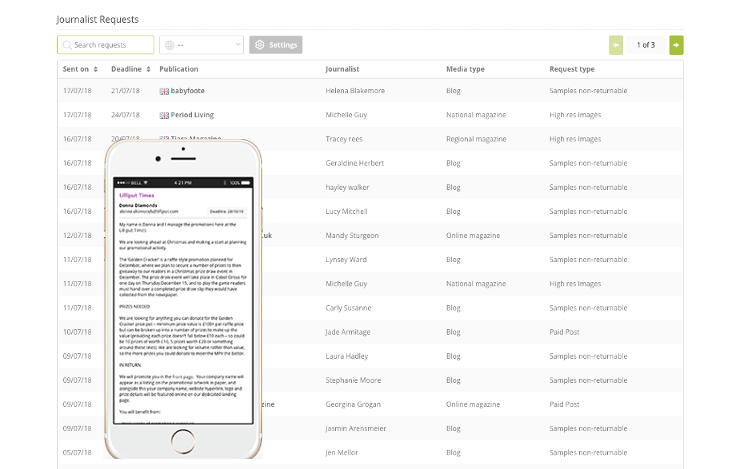 An easy and efficient way for brands and social influencers to connect and collaborate on sponsored posts, giveaways, product reviews and more. Channels include Instagram, Twitter, vlogs and blogs.
Brands submit a Collaboration Alert detailing their campaign and follower requirements and these alerts are sent to our network of 1000s of bloggers and social media influencers that match the requirements. Influencers apply through our platform and brands then select who they would like to work with.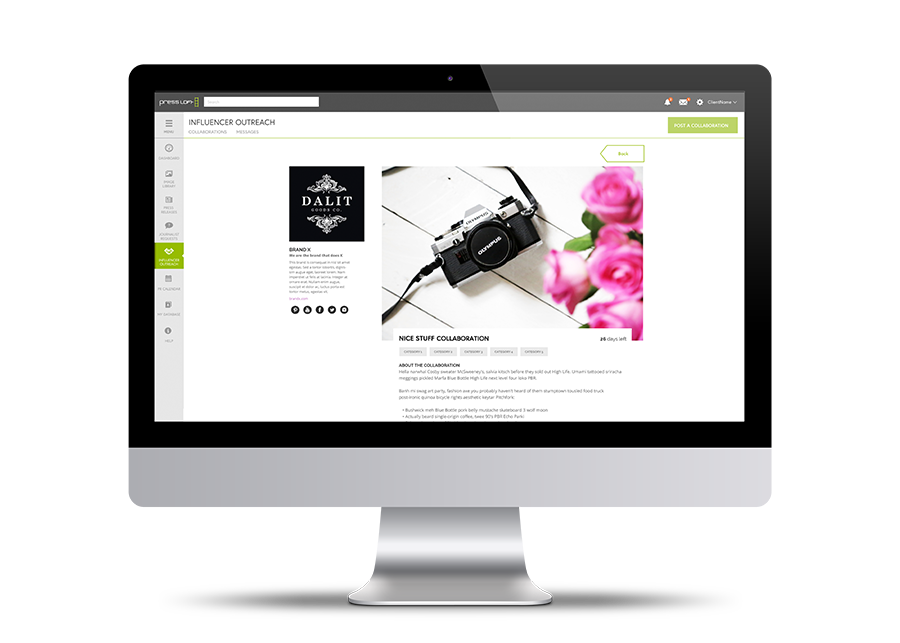 The benefits:
for Brands + PR / Digital Agencies
Create a stylish online press room for your brand
Be discovered by 21,000+ Journalists + Bloggers worldwide
Connect and collaborate with Social Media Influencers
Secure print features in top magazines and newspapers
Secure online features with quality backlinks for SEO
Access powerful reporting and media monitoring
for Journalists + Influencers
Discover content from 1000s of brands online, anytime.
Instantly access high res images, PR contacts and product news
Collaborate with brands for your blog and social channels
Send Journalist Request call outs to our network of brands
Receive targeted press releases for your sector
Discover curated, trend-related content
Latest Statistics:
22,016
Journalists + Influencers
2,425,447
Images Downloaded
What our clients say:
Press Loft has been an invaluable tool for me as part of a small PR team at a fast growing startup. We started to achieve coverage for Artfinder within weeks and the coverage we have continued to gain has been consistent and high profile - including Woman & Home, Good Homes and House Beautiful. Such a great idea, and a real time saver for a busy PR!
We have been working with Press Loft for over four years, and as a small business have found it to be inexpensive and beneficial to our marketing needs. It is simple to use and great to have an instant catalogue of our products for journalists to peruse and use for articles, which has subsequently given us valuable brand exposure
We have used Press Loft for nearly a decade now. They are our virtual 24- hour press office. In this digital era, having our bank of images that journalists can have instant access to 24-hours a day is priceless. The reporting tools also allow us to see anticipated coverage and therefore pre-order and adjust stock orders to accommodate for the sales uplift we see as a result of the press exposure.
As Loaf has grown, along with the number of designs we offer, Press Loft has been an invaluable tool for our press team. It's simple to use and without a doubt it has increased our press coverage by opening up our exposure to a new set of media. We'd be lost without it now!
Press Loft have been EXTREMELY helpful in generating coverage for us, we have had many products featured in top publications which really gives us the exposure we need! And not only that, they provide a great service and the site is quick, easy and simple to use. We would recommend Press Loft to anyone!
Sweetpea & Willow are ever expanding; with a huge catalogue of images it's lovely to be able to house them all in one place. We find it so beneficial that journalists can easily access our beautiful library, whenever they need at their own comfort; this has also undoubtedly increased our press related footprint. It's simple to navigate, easy to maintain and effortless to obtain assistance as and when we need it. We just love Press Loft!