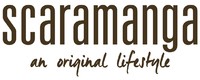 Welcome to the Scaramanga Press Office
Welcome to the Scaramanga Press Office
Products from this company are shipped to: United Kingdom and are located in: United Kingdom
24/06/2019
For the Bold and the Beautiful Only
Scaramanga
For a garden that suggests luxury, Scaramanga recommends using bright and beautiful colour combinations. Combining red and blues alongside yellows and dark wood creates a gorgeous summer contrast.

Add some beautiful touches of light with our green old storm lamps. Have them placed around your garden to create a beautiful atmosphere.
Of course, our perfectly imperfect tables make such a fabulous focus. Check out this vintage blue, folding table. Style around your table, why not be daring and add a red vintage folding chair for contrast or be a little more subtle with this gorgeous teak bench. A great trend this summer that Scaramanga loves is the Terrazzo Trend and we have lots of options to choose from. The hurricane candle holder is a beautiful centre piece to your outdoor dinner party. Protect your vintage table in style with our Terrazo coasters. Having accents of these multi-coloured accessories around help tie together your bold colourful garden style.

Scarmanga love to upcylce items, especially for the garden. These beautifully coloured wooden boxes can be used as a mini herb garden, for potted plants, or its perfect to carry your glasses of gin from the kitchen to the table. Also our Vintage Fire Buckets can be used as plant pots or a massive ice bucket for your drinks! If you dont fancy such a bold flower pot, we have more traditional plant pots such as these pretty little terracotta pots.
Whatever you decide to pick for your garden, you're sure to find an extensive collection of beautifully coloured outdoor items at Scaramanga.
Stockist details:
+44 (0) 1334 657 642 | www.scaramangashop.co.uk
High-res images available for download: